This Equal Pay Day, I wanted to start some real talk about gender equity in the workplace, and share what we have been learning at RealSelf as we've begun to tackle this issue.
About a year ago I had a conversation with the team at Melinda Gates' private office, Pivotal Ventures. They decided to tackle the issue of gender equity in technology, and were doing deep analyses of the problem. I asked where they were seeing the biggest leakage in the pipeline – what's the most impactful lever they could pull? The answer: Literally every single point along the way from birth to retirement. Ok. So if data powerhouse Gates can't narrow it down, and behemoths like Google can invest millions and not move the dial, is this an insurmountable problem? I seriously questioned whether our high-growth, small-midsized business (SMB) could have any impact on this issue.
The problem is intractable, for sure. Insurmountable, no. And, what we've learned experientially at RealSelf is that there are definitely things that SMBs can do to impact their own gender equity goals, while also helping to move the larger conversation forward. In short: The most effective diversity and inclusion strategy is to invest in the women you already have.
The following are five things we've done that any SMB could start today (and what better day to start!), and begin to have an impact. 
1. Compensation study: data + transparency
In Q4 2017 the People Team at RealSelf led a compensation study aimed at uncovering disparity in our comp practices versus the market externally, and internally along gender lines.  We factored in experience, education, performance, role, and level to ensure we were comparing apples to apples and that our results would truly lead to equal pay for equal work. We found that there was a real gender disparity for about 3 percent of our staff.
2. Close the gap
We took swift action to close that gap – raising pay for the women who were under-compensated relative to their male counterparts. The why, more than the how, is the crux of the issue. You can (and in many cases should) labor to diversify your recruiting pipeline, but if the women you already have feel undervalued – or objectively are undervalued – they will leave and you'll start running out of fingers to plug the holes in your ship. Do a thorough analysis, and close the gap quickly to stop bleeding talented women.
Related: Awesome Companies With No Gender Pay Gap Hiring Now
3. Invest in developing the whole person
RealSelf is a test and learn organization, and that extends to our professional development practices. Currently we are testing and receiving strong positive signals from the following efforts to invest in developing the whole person:
A. Power of You: This is a two day, external workshop aimed at helping women establish a holistic purpose and plan for their lives. We know that one difference between women and men is that women tend to view their personal and professional lives in an integrated way, versus the more compartmentalized view men tend to take. Thus, helping women intentionally plan for their whole lives demonstrates that your organization understands and values the way women approach their careers, and women stay in places where they feel understood.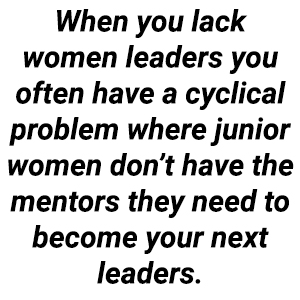 B. Professional development grants: Any employee at RealSelf can apply for a professional development grant to fund a learning experience with three criteria: it advances the individual's career goals, helps move the company forward, and the applicant can commit to bringing their learning back to share with their team or the company.  One quarter in we have seen women take advantage of this opportunity to develop themselves across the full spectrum of professional growth from data analytics conventions to public speaking to emotional intelligence. Creating a more individualized versus prescriptive development program increases engagement and effectiveness with women who tend to look for growth across a wider spectrum of their professional lives. These relatively small investments in self-directed growth are building a next generation of highly skilled leaders who will take the company forward.
C. Coaching: One significant gap we have uncovered at RealSelf is around women in leadership, particularly in our technology organization. When you lack women leaders you often then have a cyclical problem in which more junior women don't have the mentors they need to become your next leaders. One way to bridge this gap while you work to close it is through coaching. At RealSelf we have an external leadership coach (female) who is in the office three days per month to work with our developing leaders on the real-time challenges they are facing. Having this neutral sounding board has proven to be an invaluable asset, particularly to our new managers who are then paying it forward with their teams.
4. Advancement
Developing the whole person has a major impact on women feeling understood and valued, but if that isn't followed with a path to advancement, you will still lose the full value of that investment when women feel they need to leave to be promoted. This year at RealSelf we are launching a career-pathing program aimed at helping every person identify and plan around an advancement path that is aligned with their personal, and the company's goals. Coupling this with ensuring that promotion practices are fair and equitable not only impacts the individual looking to grow, but also demonstrates both internally and externally that your company is a place where women move forward and up. As SMBs we are particularly well positioned to help jumpstart growth for women as we are able to offer a wider range of experiences within roles, mobility between roles, and often a faster advancement path than our larger counterparts.
5. Storytelling
This brings me to my final recommendation. Tell their stories. One of the major issues throughout the pipeline of talent development is a lack of examples or role models for women to shape their thinking around. Because women are so lacking representation in leadership across the board, it is incredibly difficult to find a story that resonates with one woman's own experience. Sheryl Sandberg is a great example – a phenomenal leader, but so many women authentically struggle to see themselves in her experience because it is just so fundamentally different from theirs. We can all, very easily, begin to elevate stories of the badass women at our companies who are all crushing life and work in different ways. Telling these stories will invite more women into the field, and help build resilience for those already engaged.
So, what can you do today, on Equal Pay Day, to move the dial? If you are in a leadership position, commit to taking one of the five steps above. If you are an employee at an organization that could use a nudge, be bold, share this article and have a conversation with a leader you trust.
Or, simply share the story of a badass woman. There will never be too many.