Last year, RealSelf employee Kelly Herron made headlines for bravely fighting off an attacker while she was on a run in her Seattle neighborhood. The attack happened just weeks after RealSelf hosted an in-office self defense class, and Kelly fought back using the training she learned in that class.
Following the attack, she coined the phrase "Not today, motherf@#!er!", which has been adopted as a rallying cry against violence. In 2017, RealSelf hosted a free self-defense class by Fighting Chance Seattle to teach the same skills Kelly had learned a few weeks prior.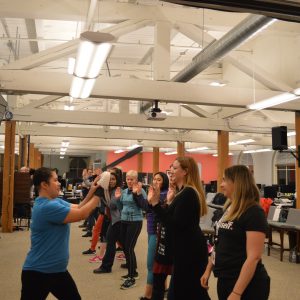 Now, more than a year after the attack, RealSelf again partnered with Fighting Chance Seattle to offer another course. More than 70 people attended.
Participants learned how to identify red flags, protect themselves and escape potentially threatening situations. Whether it's striking soft places with hard bones, or using their voices to be loud and fight hard. The class is designed to empower participants with the skills they need to respond in threatening situations.
We talked with Kelly about what her past year has been like.
You've had a busy and intense year. What have been the high points?
While the last year of my life has been the most challenging, it has also been the most rewarding.  
I had the opportunity to speak on the topic of resilience at a running retreat and share my story with hundreds of women. The speaker lineup included Olympian Alysia Montaño, journalist Erica Hill and running influencer Kelly Roberts.  
Preparing for the event allowed me to reflect on my life that led up to the day of the attack and made me realize that resilience is cultivated over a lifetime, not something that is born overnight. Every setback in my life prepared me for overcoming the trauma inflicted by the assault.
Tell us about running your first marathon.
Training for the Chicago marathon with my mom was a life-changing experience. We logged miles in the mountains of Oregon, city of Seattle and ranchlands in Montana. She was so supportive and encouraging and let me feel all my feelings, even when most of them were expletives.
When I met my running inspiration, Olympian Carrie Tollefson, at the Chicago Marathon, it was surreal. After being on her podcast last March, she emailed me every week to help me with my training schedule. Her belief in me made me believe in myself.
The marathon itself was an absolute blast — at least for the first 15 miles. It's like running through a huge party with every nationality represented, music and a crowd that cheers nonstop.  
I was surprised to have people recognize me on the course and tell me how much my story inspired them. It kept me going! I will always have the memory of being with my mom through the whole thing, it was really a metaphor for the whole experience. No matter how hopeless it seems, you just keep going.
My motivation to continue training for the marathon was initially because I refused to let my attacker take anything from me, including the pursuit of becoming a marathoner. A switch flipped when I crossed the finish line. I quit looking back at what happened to me and started looking forward at how I could help others with my experience and inspire then to discover their own badassery.
You really shared your story, especially online.
The assault was a few minutes of my life, but I am more than a catchy headline.  Sharing my story with an audience allows me to shed some light on the experiences that led me up to that day, and the work that it took to recover.
To me, the difference between being a victim and a survivor is not about winning or losing, but about how we respond when our world is pulled out from underneath us.  
The best part about sharing my story is seeing people realize that they can write the ending to their own stories, and we don't have to be defined by our past or suffer alone. Kind of like running a marathon.
You advocate and do events to teach people how to defend themselves. What is best part of doing this?
Getting to talk to people afterward. They often tell me that they don't think they could have survived.
I believe that anyone could have survived what I went through if they have baseline knowledge of self-defense, and they permit themselves to unleash the most savage part of themselves when they need to. Survival is an instinct and adrenaline is powerful, but it is also important to know how to effectively channel that power or else you are just flailing.
What have you learned most from this year?
I have learned that the key to survival is a super support network, and for me that came in many forms. My friends from work came to my home to clean up and make me food, and help me go through my thousands of online messages. My running coach got me back out to train, and, of course, my mom was the biggest supporter of all. Every parent fears the phone call from the hospital that their child was hurt. She has handled all of this and my recovery with a grace and strength that I admire greatly.
I have learned the importance of self-care, and this was not a lesson quickly learned! Self-care can come in many forms, like going to therapy, getting fresh air and setting boundaries. There is so much noise in our lives that we can't always hear our own needs. I tell people all the time now to give themselves a break. We put so much pressure on ourselves to keep going and be strong and sometimes you just need to eat candy and have a good ugly cry.  
Anything else?
When I was marathon-training early last year, I had been meaning to take a self-defense class, but I never prioritized it.  When it was offered at RealSelf during the day, I had no excuse not to. This one small decision would change the course of my life.