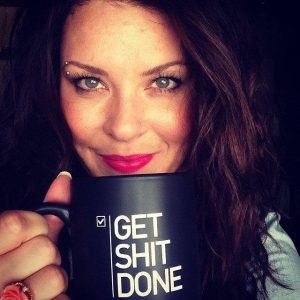 If you met Amber for the first time, it might be hard to see her as anything other than a star member of the RealSelf sales team.
One of our most successful doctor advisors, Amber has had many roles at RealSelf, including digital marketing specialist in PR, and an audience-engagement specialist on our Community team.
We know that Amber is making the most of the opportunity to grow at RealSelf, but what do we really know about her?
Amber sat down with us for the first installment of 21 questions with your RealSelf co-workers. Let's get to know her better.
What is your favorite snack in the office?
String cheese or beer
What was your favorite TV show growing up?
Dick Van Dyke
Where do you want to go on your next vacation?
Indonesia
Where is your favorite place to go for lunch in Pioneer Square?
Pho Fuchsia
If you could have one superpower, what would you choose?
Invisibility
Who are three people alive or dead you'd want to have dinner with?
Oprah, Beyoncé, and Chelsea Handler
iPhone or Android?
iPhone
Twitter or Instagram?
Instagram
What is one skill you wish you had?
Singing
When you were 5, what did you want to be when you grew up?
A lawyer
What is your favorite food?
Popcorn
What is one thing you've never done in Seattle that you want to do?
Scuba dive
What three things do you keep in your fridge or pantry at all times?
Cholula hot sauce, Parmesan cheese, and wine
What is your favorite holiday?
Halloween
What toppings do you like on your pizza?
Meat, garlic, and extra cheese
Do you pronounce GIF with a hard G or like GIF or a soft G like JIF?
GIF
Who is your favorite musician?
Prince
Is a hot dog a sandwich?
No, it's more like a taco
What was your first job?
Selling Dish Network and DirecTV in a creepy call center
What is one thing in the world you think is underrated?
The cinematic film Madagascar
Which one of your co-workers would make the best president?
Kirsten Mann