We have a talented work crew at RealSelf, and occasionally, we'll feature an employee who makes our team even more incredible every day.
Meet Meredith Miller, a business analyst on our growth and analytics team. In addition to her strong math background, Meredith has long held a passion for analyzing data, even as a kid comparing her swim times to her competitors (more on that later).
A Seattle native and graduate of the University of Delaware, Meredith has a bachelor's degree in the science of economics, with minors in math and Spanish, plus an master's degree in economics.
Meredith has been at RealSelf just over a year, but is already an essential part of the team. Here she talks about her background, what she does at RealSelf, and what everyone who's thinking about a career in data should know:
How did you get into analytics?
I've always been very good at mathematics and statistics, so studying economics was a natural choice in college, as I wanted to find a field that combined math and practical applications.  
What did you do before joining RealSelf?
I worked in the economic research group at Zillow doing housing market research and managing data production. I previously interned at the U.S. Department of Agriculture economic research service doing research into the assets and debts of low-income households and SNAP (Supplemental Nutrition Assistance Program) participation in between stints in graduate school.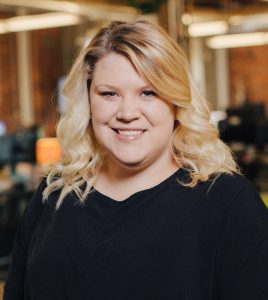 What made you decide to join RealSelf?
I was referred by a former colleague who thought that I would get along well with Alan [Treanor], the VP of growth and analytics. I was especially intrigued by the possibility of joining a much smaller, still-developing organization and to have the opportunity to make an immediate impact on the business. I liked that the company was still growing and learning, and I would be able to help figure things out as we evolve.
What's your typical day like?
I spend the morning doing small things I can get done, like addressing requests from PR and other teams. Then I look at longer-term projects. I've been helping the product managers put together insights about new features we're launching, especially in the app.
What's been key to your career development?
What's helped me out is that I'm naturally inquisitive and persistent. Being inquisitive is great personality trait for an analyst. I always want to know the "why" behind the "what" when we see things happen on the site, and find the logical explanation behind the numbers.
As for the being persistent, I think that you have to be patient, but my success as an analyst is really determined by the quality of the information in accuracy and succinctness I can provide to the product managers, and if I can give the people I'm working with clear, actionable insights into the questions they're asking.
What do you always find surprising when analyzing data?
I just did a lot of research into trends in Seattle and Portland [Ore.], and you can definitely see a difference in interest with us in the Pacific Northwest and what we're seeing in trends nationally. I thought it was really interesting to see a lot of things people in the Portland and Seattle area do research on have to do with the face/neck, as compared to the more body-specific procedures in other places.
One thing that is generally interesting for me is to learn more about innovation and the science in surgical and nonsurgical industries. People are constantly trying to improve their surgical techniques and make them more effective, and in the non-surgical space, a lot of research goes into creating those products and making them more effective as well.
What advice would you give to anyone considering a career in analytics?
I'd definitely say to have a strong background in math and statistics. I kind of had a weird elementary school experience in that we didn't follow a particular curriculum, but did a lot of math and science and logic puzzles. I did a lot of math classes in high school and college and grad school, too.
I always loved numbers. When I was a kid, I was on the swim team, and I would research the times of the others I would be swimming against because I would want to see how fast I would need to swim to win. I like to win.
We're hiring! If you're a business analyst don't hesitate to get on board with Meredith's team by applying to be our next Senior Business Analyst or Business Analyst.