Ten years ago, RealSelf launched in CEO Tom Seery's spare room. Today, we're a fast-growing company with over 130 employees located in Pioneer Square.
Getting from there to here has certainly been an interesting ride. From the early days of bringing your own fork to work (huh?), to champagne toasts of today, it's been quite the journey. We have employees who have been here from the very beginning, to newbies who've only been here a few months. For our 10-year anniversary, we asked them to tackle two big questions: "What was RealSelf like when you started" and "What has changed the most?"
Sharon Walls, Community Engagement Manager
Years at RS: 10 
What was it like? RealSelf was still finding itself when I started. My first article was about SPF labels on sunscreen! The site was based around articles and first-person "as told to" stories. We were less focused on elective surgery and more focused on what women did to look their best.
Tom always had the mission to empower consumers through information.
What has changed? The site evolved from a single perspective (via articles), to having consumer reviews and doctor tips, which became the Q&As. I think the doctor involvement is what makes RealSelf truly unique. Consumers can get perspectives from fellow community members and also professional opinions from healthcare professionals all in one place.
Peter Krengel, Manager of Analytics
Years at RS: 3
What was it like? When I interviewed at the office near the ferry, they had just moved and there were half as many applicants as employees in the office that day because the phone lines hadn't been installed yet.
What has changed? What's changed the most is the sheer volume of work and progress the company is able to make on a daily basis. Going from 20 employees to 130 is nuts.
Maureen Ezekwugo, EVP Doctor Community
Years at RS: 6
What was it like? When I started in 2010, RealSelf was mainly unknown. Traffic was at 900K unique users a month, there were only about 1,000 claimed doctor profiles, our revenue model was fueled by Google AdSense, and Tom Seery carried a pink water bottle around to each meeting. There was no coffee at the office. No snacks, not even a fork.
You had to bring your own fork.
What has changed? Unique users have increased 10X, claimed doctor profiles are up over 12X, and we no longer have any reliance on Google AdSense to pay the bills. We have ample snacks, coffee and beer, a great following by both consumers and doctors, and Tom Seery has upgraded to La Croix and Talking Rain.
Most importantly, the talent and experience on our team has grown exponentially and continues to expand with some of the smartest people I've ever worked with in my career.
Meredith Russian, Manager, Administrative & Billing Operations
Years at RS: 6
What was it like? When I started, there were seven of us in the office. There were a very conservative amount of office supplies. No one had monitor stands, so we'd stack up reams of paper. The only office snacks were coffee (if Maureen made it) and Talking Rain. There were basically three departments: Sales (four people), then the Dev team (two), and Community.
What has changed? The biggest change has just been the displays of generosity from RealSelf to its employees. The bigger and more successful we've become, the more RealSelf has been able to bless its employees.
Charlie Chu, Doctor Advisor
Years at RS: 1
What was it like? I started in July in 2015 and instantly loved the atmosphere and culture. I think we were around 60 people, maybe less?
What has changed? We are growing so quickly and it is exciting! The Doctor Advisor team has grown and developed a ton. When I started, we only sold doctor spotlights. Now we have a new and improved model, invited non-core doctors, renewed almost all our doctors, added business pages, and new treatments.
I love how our team and company is able to grow, adapt, and make an impact!
Debra Gravelle, Doctor Advisor
Years at RS: 4
What was it like? I was the fifth advisor on the team, and it was a very close-knit group. Because I am remote they keep a hangout open so I was always with the team. Even on a bad hair day.
What has changed? The number of employees has increased so much in four years that when I make my quarterly visits I always think, "When did all of these people show up" So now I get to be on a hangout for meetings and trainings, but don't show my face any more because a bad hair day is my new norm.
Anthony Mendonca, VP of Engineering
Years at RS: 5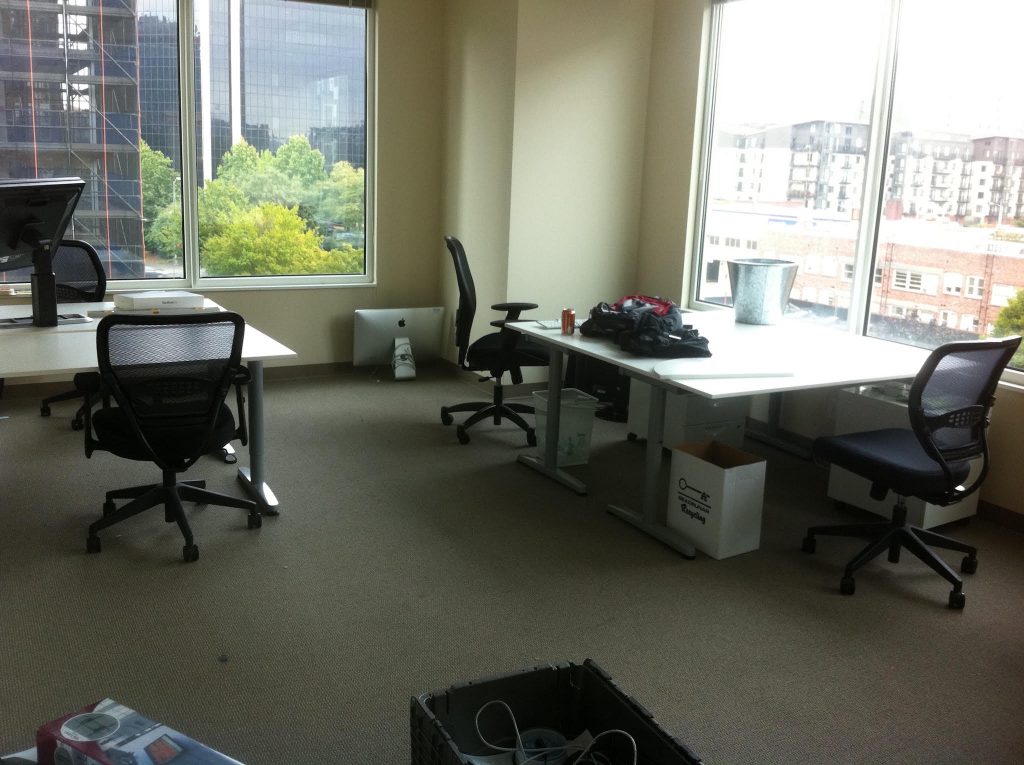 What was it like? Much smaller! This is a photo of the developers' office, just enough room for the four engineers we had at the time. This wasn't even the first office, just two months before this, we had one developer, and we were squished into an even smaller office with everyone else.


What has changed? Aside from the growth itself, it's been amazing to see how our culture has flourished with every new team member that's come aboard. I'm happy to be a part of this family.
Tom Seery, CEO
Years at RS: 10
What was it like? I liked that I got to work with my wife for the first, and probably last, time.
What has changed? My perspective on our purpose. It was an idea to empower consumers, and now is one that is about delivering on our mission to instill greater confidence.
See more of our 10-year anniversary celebration via #RealSelfLife on Twitter, and be sure to check out our Careers page and learn more about how you can help shape our next 10.