Sarah Durkee, a UX designer at RealSelf, was chosen to join ReSurge International on a trip to Dehradun, India, to help those in need of reconstructive surgical care. Read the first part of her story here.
The first day at the hospital is "clinic day," when doctors and staff evaluate hundreds of patients who've shown up in hopes of receiving free, potentially life-changing surgery. It's an emotional day, filled not only with stories of tragedy, but of having to decide who can be treated and who must be turned away. More than 500 people showed up to be seen, roughly 400 more than we'd expected.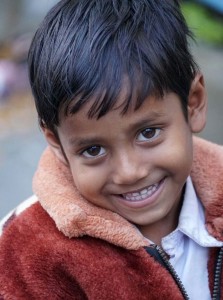 Our van pulled up to the hospital to a waiting crowd. Hundreds of faces stared as we were escorted to a stage. Dr. Kush Aeron, one of the local doctors and a director of ReSurge's Surgical Outreach Program in Dehradun, addressed the audience in Hindi. I couldn't understand what he was saying, but I noticed everyone looking around at others in the crowd. That's when a little boy and his father began to make their way to the front.
I later learned that the child had undergone a previous surgery performed by Dr. Kush to correct the damage a fire had caused to his legs. The burns formed webs of scar tissue behind his knees, causing his legs to be permanently bent. Before his surgery, he'd been unable to walk. Now he was just like any other child.
After these introductions, we were escorted through glass doors with the words "Operation Theater" above in red paint. Behind the doors was a large room with a series of smaller rooms opening into it: the examination room, the break room, the OR. Walking into the operating room, we were met with an overpowering smell of disinfectant. There was a large sink that was more brown than white, with three faucets dripping into it.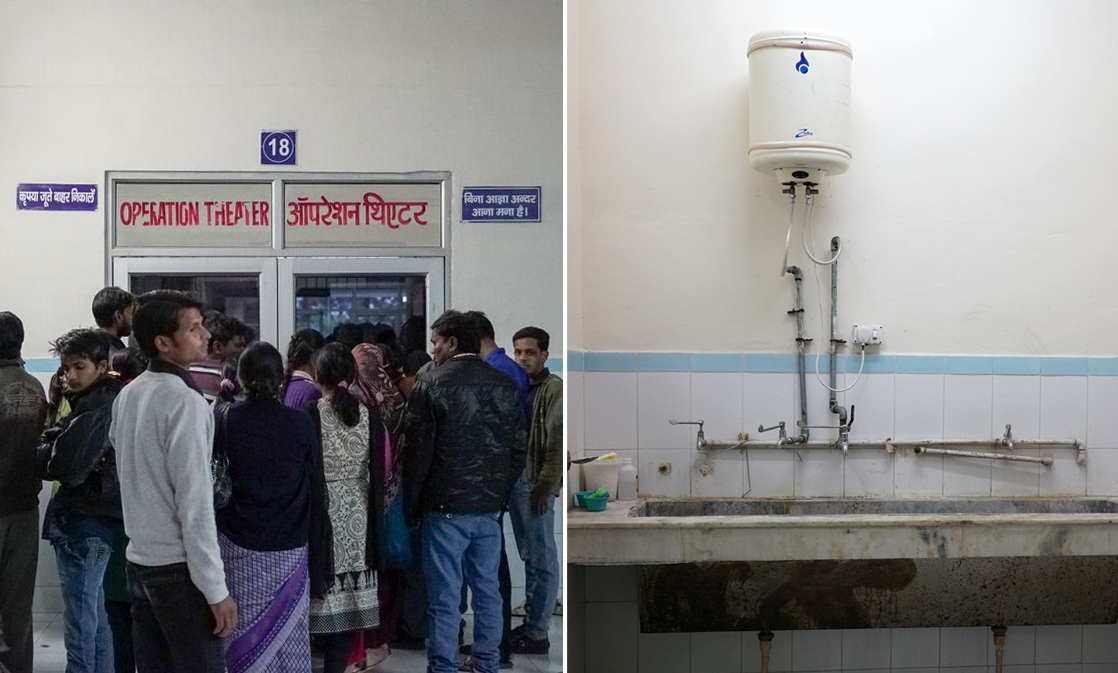 We ripped open the boxes of medical supplies that had shipped along with us, while the head nurse scrubbed down the OR. Before we were even ready, the first patient walked through the door. She was so badly burned and disfigured that I was afraid to look her, but I was also afraid to look away. Her skin was shiny, with thick threads of scarred flesh running across her face and down her neck. Her mouth was pulled open, her bottom teeth permanently exposed, and her scarred hands forced her fingers into the appearance of claws.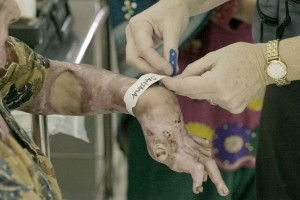 As the day wore on, the rooms filled with people and lines snaked out the doors. The smell of bodies overwhelmed the space. Doctors and prospective patients were all tired from their travels. Some from mountain villages had traveled for a day or more to get there. Many brought their families with them, some with deformities of their own. During the examinations, they were asked about their medical history, mostly to determine if they were healthy enough to be placed under general anesthesia. It quickly became clear that the majority of these people had never been to a hospital before. Many were born at home and had never had any medical care at all.
As the doctors continued with the screenings, members of the Indian media interviewed the hospital staff and people on our team. As I looked around at the cameras flashing from the local press and faces lit up with bright lights for television interviews, I realized we were a part of something big here. For weeks it had been advertised on flyers all around town. Hundreds of little pieces of paper with before and after photos and information about the "surgery camp" were scattered across Dehradun.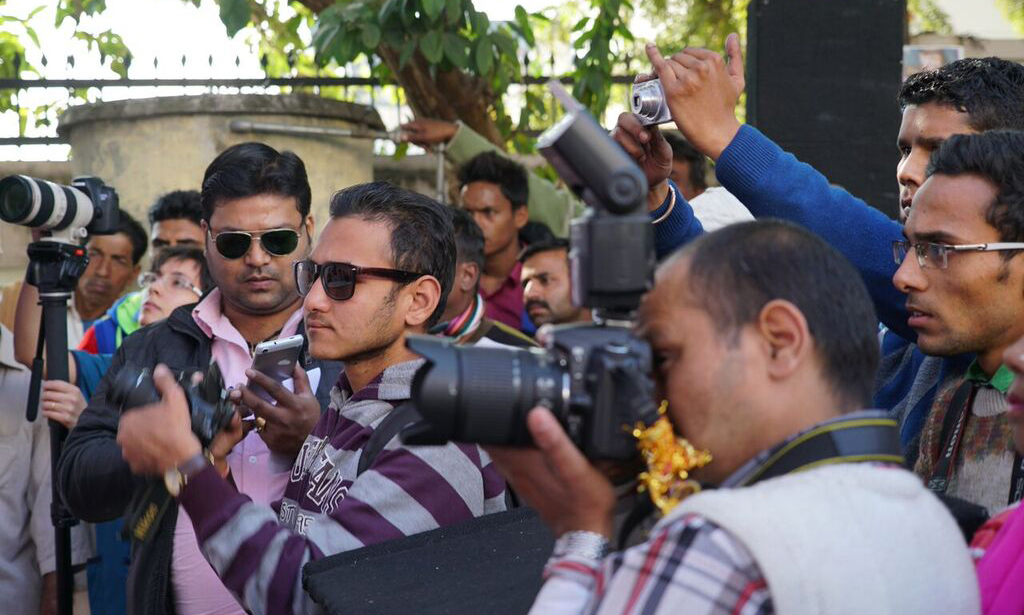 Eventually, things began to settle down. The doctors worked their way through hundreds of patients, while I wandered through the waiting crowd. As I smiled to the people who had traveled all this way to get here, I was struck by the warmth and sincerity I received back. I remembered a friend telling me about the traditional Indian greeting, Namaste, meaning "The goodness in me bows to the goodness in you."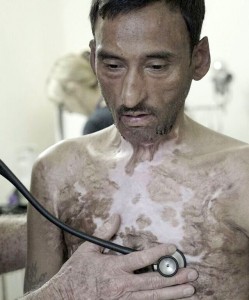 Back in the "Theater," doctors would occasionally step into the makeshift break room, a small set-up with a few chairs and a gurney, where they could catch a few minutes of peace from the chaos of the day. They were sleep-deprived, hungry, and felt they were getting behind. Never before had they had this many people show up for a clinic day. They expected 100 and got five times that amount. They were faced with having to accept the possibility that they might not be able to see everyone in need.
In my last walk through the crowd, I caught a glimpse of someone's disfigured hand for a brief moment before it was tucked away behind the drape of a shawl. I slowly realized that many of these burned faces were hidden behind headscarves and veils. Scalps that once had hair were covered with hats. Many of these patients were living their lives in the shadows, hiding the shame of their deformities.
At the end of the day, I packed up and got ready to leave, but the doctors and medical staff were still working hard. Some of the patients had pushed their way through the glass doors and into the examining room, restlessly waiting to find out if they'd be able to get surgery.
Later, I asked one of the doctors how the day went. He said that the true test would come tomorrow. "The first surgery is always the hardest," he told me. "If something's going to go wrong, it will be then." We were all going to have to wait and see.
— Sarah