We're having a big growth spurt at RealSelf, with new team members starting nearly every week. We care a lot about integrating new folks into our social circle, usually through our shared affection for food. We greet them on their first day with a bagel breakfast for all. We invite them to join us in our Slack #lunch discussions and at the communal lunch table. And on Friday afternoons, we welcome them to our version of the water cooler: the kitchen kegerator. (We drink water, too, but not usually so socially.)
We asked David Ross — Software Developer, food trivia master, and one of the instigators of our rotating taps — to share the inspiration for this tradition and pay tribute to his favorite craft brews. Thanks for fermenting our cultural brew, David.
---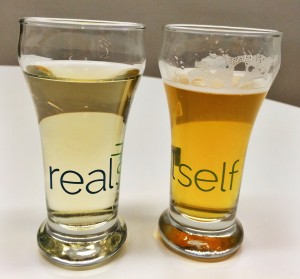 Office kegerators are a popular startup perk with good reason: having a tap or two at work leads to a much more social workplace, especially on Friday afternoons.
The path to flowing taps at RealSelf started shortly after I was hired on as a Software Developer. The week I started, I decided to carry over an end-of-week tradition from my previous workplace (and offer thanks to the team for taking me onboard) by sharing some bottled beers I'd been holding onto for a special occasion.
My new team embraced this tradition, which gave us all a bit of novelty and levity to look forward to each week. Craft brews also turned out to be great conversation starters: beer lovers could try something new (given the Pacific Northwest's wealth of breweries, there's no shortage of new things to try), and people just getting into them could get a feel for what they like. When it became clear how much people were enjoying it, talk turned to an office keg system. 
Once the decision was made (and budget granted), we settled on a two-tap system from Kegco, so we could rotate through smaller 1/6th kegs, keeping the options frequently rotating. Slack was very useful here, allowing us to coordinate options in a dedicated #on-tap channel and find area breweries we could feature. Our inaugural beers came from Odin Brewing: their seasonal Lemondrop SMASH and standard Asgard IPA.
On the second rotation, featuring Seattle Cider Company's Semi-Sweet and Two Beers Evo IPA, impromptu keg gatherings really took off. Given the popularity of IPA on the West Coast, that was an expected hit, but the cider was surprisingly popular, bringing those who weren't really into beer into the kitchen for a pour. Ciders have since become a second-tap staple, especially the delicious Black Currant from Finnriver. 
Ultimately, introducing the keg to the office has been a resounding success. Friday afternoons are always lively, we enjoy more options at special events, and the Friday Bottle Share still pops up on special occasions. — David Ross
Interested in joining our team? See our open roles.