When I first walked into the RealSelf office, I was impressed with the full-sized cabaret-style lighted sign in the lobby spelling out CONFIDENCE.  Wow – this office is cool!  The furniture was modern and sleek, the reclaimed wood wall screamed Seattle.  I had actually been in the same building a week earlier to meet with another Seattle start up.  They had garage doors in their office that opened up to a conference room.  I have worked in some pretty amazing tech companies in Seattle.  I was part of the Amazon HQ move from PacMed on the hill to the now overly-populated South Lake Union district.  I was with Concur Technologies when we moved from a very small building in Redmond to take over part of the old Microsoft campus.  I had also just left Whitepages in downtown Seattle following a $2.5M office renovation.  But there was something special about this place.  The brick archways and the hardwood floors were cool, but there seemed to be a buzz that I had never felt anywhere before.  It wasn't a busy-just-to-be-busy buzz.  It was the buzz of pride.  I had a feeling that the employees who worked there felt like they were doing something important…something that made a positive impact in people's lives.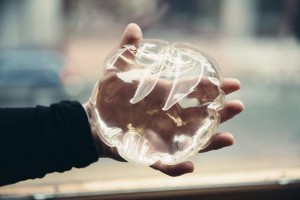 So you can imagine my curiosity when I sat down in the conference room called "authenticity" and noticed a fake boob sitting on the table.  What the….?! As I sat there through the standard tech company interview loop, every person that came into the room absent-mindedly picked up that fake boob and proceeded to squeeze it as if it were a stress ball.  "What is going on?"  Finally, I had to ask.  "Is that a silicone boob implant?"  <Straight-faced reply>  "No, it's actually a saline sizer.  Silicone would feel much different, more like a gummy bear." At that point, I had to decide.  Am I comfortable with this subject matter?  Is this company's product something that I can get behind and support?  I am going to be convincing people to work here, after all. As the conversations continued, my interest started to pique.  How could a company focused on people's vanity be doing any good?  That's when I started to learn.
It wasn't about vanity (okay, some of it is!) but it was more about helping people regain their confidence.  This was something that resonated with me.  I had been feeling pretty unconfident as of late and it felt good to have a conversation about supporting a community and helping them find the answers they need.  The idea is to create a space that allows users to have open and honest conversations about stuff that bothers them about their bodies and learn about their options to fix them.  Without judgment.
I learned about the mom that had the mommy makeover and finally felt confident to swim with her kids for the first time.  Her kids were 9 and 12.  I learned about the women that had a breast implant after she lost her left breast to cancer.  I learned about the gentleman who had life changing experience with a Gastric Bypass surgery.  These stories were inspiring!  They also offered the users the opportunity to make a decision to *not* have a procedure done.  The site offered doctor reviews and ratings for procedures and surgery buddies.  Seriously?!  Where else would someone find this information?  You certainly aren't going to chat about it over the fence with your next door neighbor.  They even had a giving back campaign which supported plastic surgeons traveling overseas to complete procedures on third world country citizens with deformations who would not otherwise have had the opportunity.
Finally, the light had come on.  This company wasn't like the other Seattle tech companies.  This was personal!  This company was doing some amazing stuff.  They had just hired a new CTO to come in and make the data more robust.  They had busted through the wall in their office and expanded to meet the company's growth.  They had a board of directors that read like the "Who's Who of Seattle" list.  The decision was made.  I wanted to work here.  And thankfully, it turned out that they wanted me to work here, too!  Talk about a boost in confidence!  That was almost three months ago and I haven't looked back once.  If you are interested in learning more about finding your dream job at RealSelf, visit our careers page.  realself.com/jobs  Who knows?  Maybe you'll get to squeeze the saline sizer, too!
– Jenny Chynoweth, Director of Talent